3 Easy Guitar Exercises
Playing guitar, whether you are just beginning guitar lessons or on your way to becoming an advanced shredder there we all need warm-ups. I recommend to all my students that before you leap in head first into your practice that you warm up. Partly because it helps avoid tension, injury and gets your fingers loosened. When you sleep, type, or exercise your fingers end up in different positions and just need a little bit of guitar oriented movement to get you going.
Stretches for Guitar
It's always important to get a little stretch in before playing guitar. While there are loads of great stretches, on and off the fretboard, here are two that I am particularly fond of. You can also check out some of guitar virtuoso John Petrucci's stretches and massage techniques. I definitely recommend these even if I'm not covering them here.  
The first exercise is pretty straight forward. The trick with it is actually the fingering. Most people want to play these stretches with the first and third finger. However, when you are spanning more frets, in this case a total of 4 frets, it is easier to stretch from the second finger to the pinky than the third finger to pinky.
The second exercise is a little more complicated on paper. However, it is pretty simple. You basically play the chord shape and begin slowly moving your fingers down the fretboard. You only move one finger at a time. First you move your first finger (the index finger) and then the second and so on. Check out the video below to clarify. Make sure that you can hear each note ring out clearly.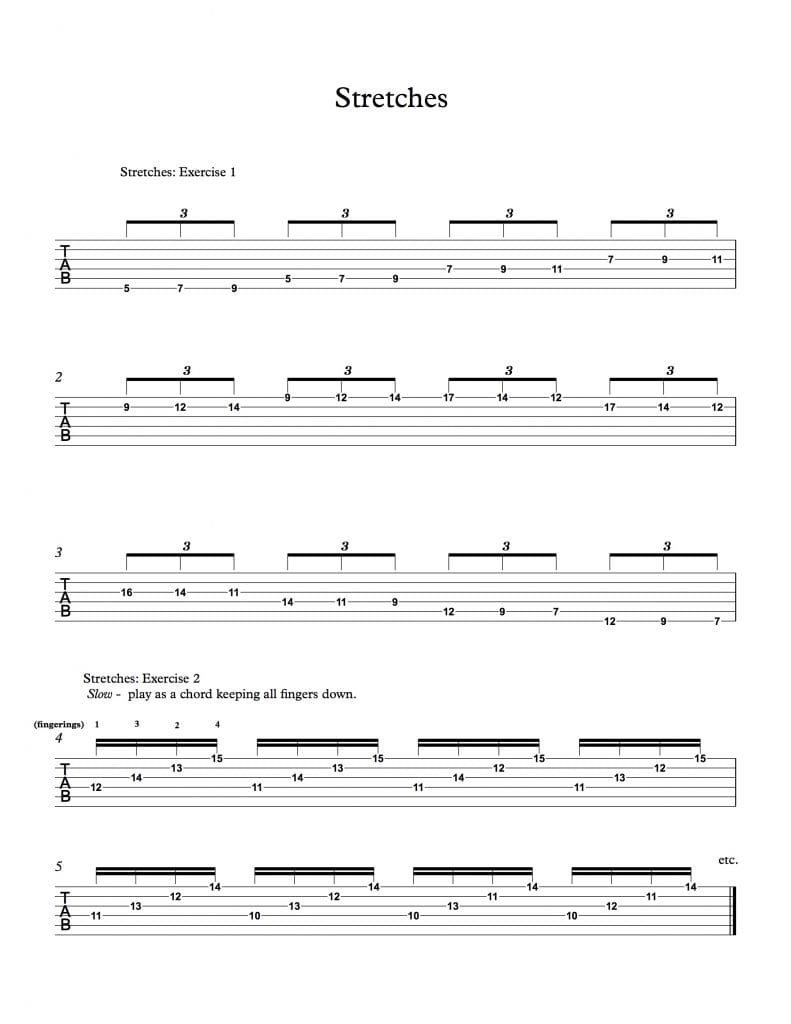 With both of these exercises take your time. Be deliberate in how you play them and make them articulate. As you work your way down the guitar the stretches become more difficult. You may not be able to make it all the way down the fretboard and that's okay. Don't hurt yourself.  just get a comfortable stretch.
Guitar Specific "Chromatic" Exercise
This one of my staples for getting warmed up. I really like coming up with variations on this exercise. While it is not a proper chromatic scale, is, well, cromatic-ish. I have changed it to fit the idiosyncrasies of the guitar. But, there are guitarists like Steve Vai that have advocated this exercise and variations of it for the last 30 years. If it's good enough for a guitar god, I think it's good enough for me.
This one in particular is great to really focus on the left hand articulation. Usually this is one of the first exercises I give guitar students. It doesn't matter if you are beginning or advanced. Even if this is your first guitar lesson you can get something out of it. I've included a few variations.
Here are some steps in practicing this exercise:
Start with the first exercise placing your fingers carefully and focusing on the sound of each note make accuracy your key. Start working on alternate picking here if you can. 

Keep all your fingers down as you play through. Hold down the index finger while you play your middle finger and so on. Then keep all fingers down as you move on to the next string and only lift your index finger in your fretting hand. I call this one the crawl. It's a little tricky at first. The goal is NOT speed but finger independence.

The next two (variation 1 and 2) give us some rhythmic variation to help build timing and speed through bursts. The purpose here is to get used to the rhythmic changes that make a guitar solo captivating. 

Variation 3 is designed to help you just focus on how fast can you move your fingers. Here it is on the 4th (and the 3rd string of the guitar) but you can put it wherever you are comfortable. The goal is for you to get used to the rapid movement of all four fingers in one place on the guitar.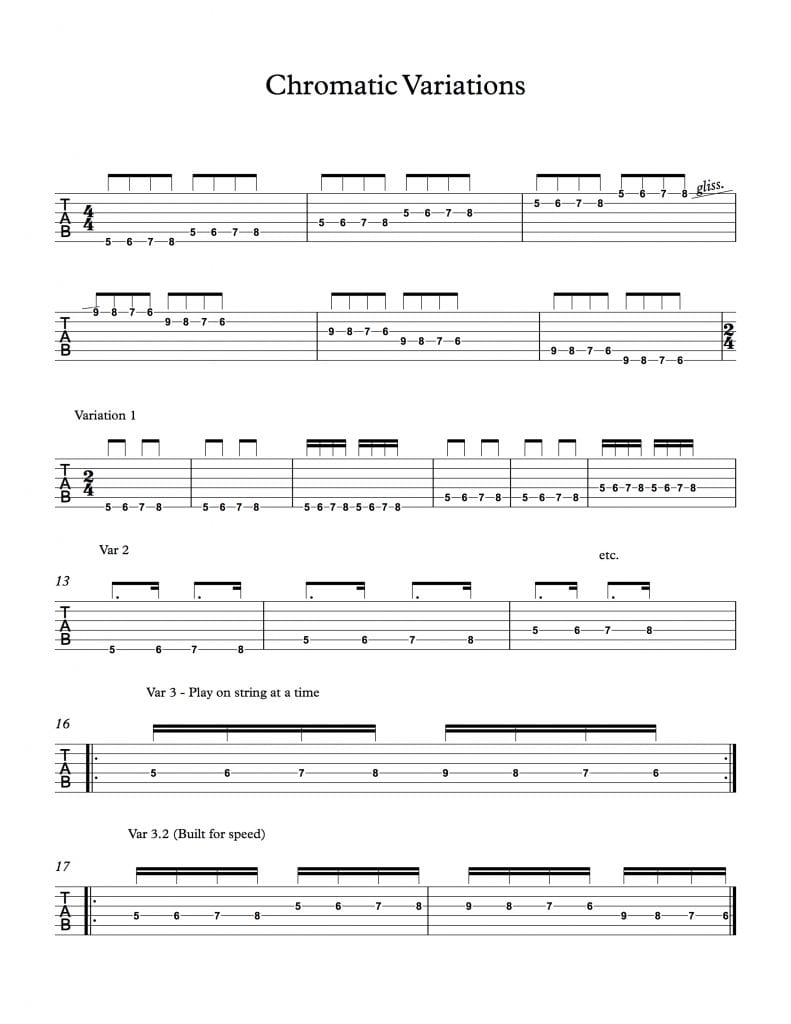 Just 4 Notes
This particular exercise I have worked on with two different teachers: French Guitar Legend Christophe Godin and session player Dave Beegle. This is a great exercise to build your speed. It is especially useful while working through pentatonic scales (for obvious reasons). But It will also help you improve your accuracy across the strings. As a guitar player I have found this one particularly valuable. 
Christophe's version, reproduced here, helps to focus on the picking variations.For this you can see the varying types of picking. If you are working on your alternate picking be sure to work playing this pattern both ascending and descending. The sweep patterns will also work ascending and descending. While for some guitar players sweep picking can be daunting, a simple warm up exercise like this will help get you used to the motion. You can look more into these types of picking through another video I did.
You can download this 4 Finger Exercise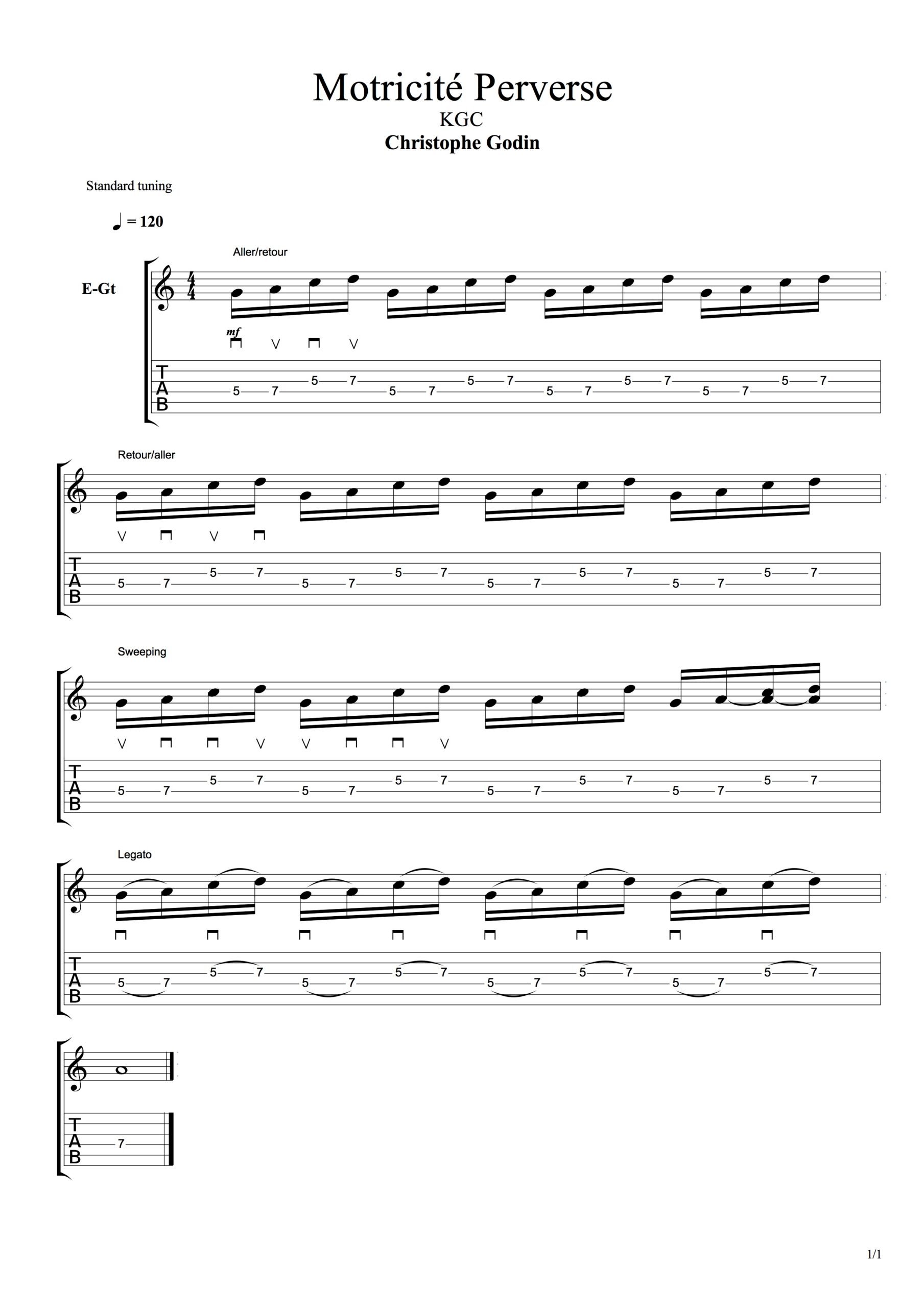 Even though this is very specific with the frets and the strings on the guitar, you can get creative with this one. For example, you can try it with different finger combinations (e.g. 1st and 4th finger, 2nd and 3rd finger etc.) on different frets. Try it on different strings. Try string skipping. After every group of four notes, try moving up the fretboard while maintaining a diatonic scale. The possibilities with this one are endless. Be creative with it and build some awesome licks while improving your technique.
Like I said, these are just 3 easy exercises to get you started and warmed up as you play. But you may find a whole lot of variation and fun in them as well. Stay tuned because there will, no doubt, be some videos going over the later two. The biggest thing you can do as you warm up is keep your mind and hands loose. Stretch it out, let it fly and remember playing guitar is about having fun!
Share This Story, Choose Your Platform!